Stella Kapezanou
Born 1977, Athens, Greece.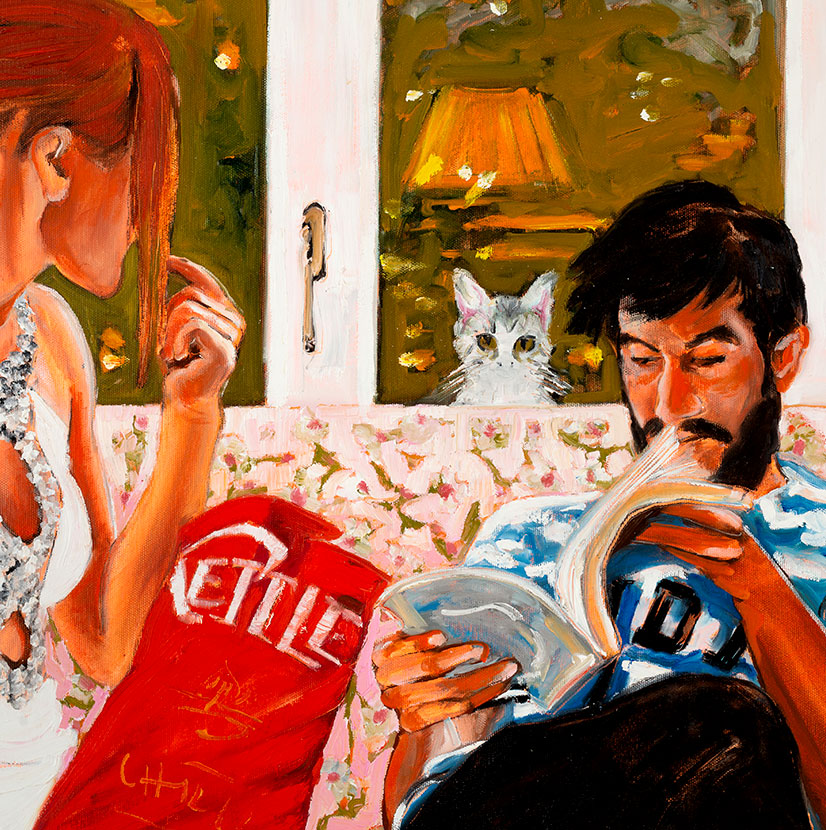 Stella Kapezanou
Born 1977, Athens, Greece
Stella Kapezanou's figurative art focuses on the complexity of the human subject. Her paintings introduce a cold intimacy rendered mainly in vibrant colors, which are further intensified by the large dimensions of her works. She primarily uses oil on canvas and occasionally incorporates ceramic sculptures that echo common motifs and aesthetics found in her paintings. Through her art, Kapezanou underscores the modern lifestyle, which transitions from opulence to consumerism and decadence, often presented from a critical perspective.
Stella Kapezanou (b. 1977) was born in Athens, Greece, where she currently lives and works. She studied Painting at the Athens School of Fine Arts (ASFA), where she was awarded an honorary scholarship by the Greek National Scholarships Foundation (IKY) for ranking first in the ASFA entrance examinations. In 2013, she received a scholarship from the Akademie der Bildenden Künste München (The Academy of Fine Arts, Munich) to attend the institution. She obtained her MA in Fine Arts from Chelsea College of Arts, London, under the Motoroil Hellas scholarship, and was also awarded the Sir Frank
Bowling Scholarship.
Kapezanou has received various accolades, including the Clyde & Co Emerging Star Award and the Cass Art Prize. She has also been a finalist and longlisted nominee for other significant distinctions. Throughout her career, she has been an artist-in-residence at several institutions, such as the Goethe-Institute Bonn in Cologne and Berlin (2014), the AucArt LAB Residency in London (2019), the iAR Residency in Istanbul (2020), and
the CARV Residency in Cyprus (2023).
Her solo exhibitions include "Let Them Stare" at The Edit Gallery in Limassol (2022), "Theodoros & Laskarina exclusive" at Fougaro in Nafplio (2021), "Baby One More Time" at Evripides Gallery in Athens (2020), "Just a Few Drops of Pink Coppertone" at Fougaro in Nafplio (2019), "Single's Party" at The Edit Gallery in Limassol (2019), and "Brit Pond" at Evripides Gallery in Athens (2018).
In 2024, Stella Kapezanou was awarded the Fulbright Greece grant as the recipient of the artist fellowship at the Santa Fe Arts Institute in New Mexico, USA. She eagerly anticipates further developing her artistic practice on the theme of Sovereignty, an issue that has been at the core of her research over the past few years. Specifically, she aims to explore questions of gender and bodily autonomy through her paintings, examining Sovereignty as a power sourced from the female body.
Let Them Stare | The Edit Gallery
Single's Party | The Edit Gallery
Get updates from this and more artists
We will process the personal data you have supplied in accordance with our privacy policy.